For many aspiring entrepreneurs, Amazon's Fulfilment by Amazon (FBA) business model is seen as the ultimate opportunity to scale their business and gain more customers.
Why, you ask?
Well, essentially it's the same as running any other ecommerce business, however, the massive upside is that Amazon will not only store your stock in one of their warehouses, but they'll also pick, pack and ship your products to customers for you.
Sounds like a winning formula right?
While FBA certainly has its benefits, if you're considering starting an Amazon business, then you should definitely take the time to research your options first.
Amazon have come a long way since their humble beginnings as an online book store, and are now the digital retailer of choice for many customers.
It's easy to see why so many businesses to decide to sell on there these days (over 2 million of them in fact), but does that mean that's it's the right option for you?
Here, we take a look at what running an Amazon business involves to help you decide whether FBA is the fulfilment model you should go for. Don't even think of clicking 'get started f' until you've read on!
What is FBA?
As mentioned briefly above, FBA is Amazon's own fulfilment business model.
It means that they still store your products for you, and when a customer places an order, they will pick, pack and distribute it for you, as well as providing customer service.
For entrepreneurs, this means that you get all the benefits of operating alongside a big household name, without all of the hard work – because Amazon will do it for you!
You can also benefit from their brand identity and the customer loyalty and trust that they have already established.
People have already shared a huge amount of data with Amazon, and won't hesitate in clicking 'buy' when you're listed on Amazon, especially if they see the 'fulfilled by Amazon' sign.
There's no need to spend a lot of time listing products – all you need to do is send them to Amazon's warehouse and they will do the rest.
Not only does this mean that it's easier than ever to increase your product selection, but you can also test new products before rolling them out across other marketplaces or sales channels like your own store.
Why does Amazon want to use third party sellers?
When you go to buy something on Amazon, you'll notice that there are different options available to you.
You can either buy directly from Amazon, or choose to buy via one of its third party suppliers (as highlighted in red in the image below).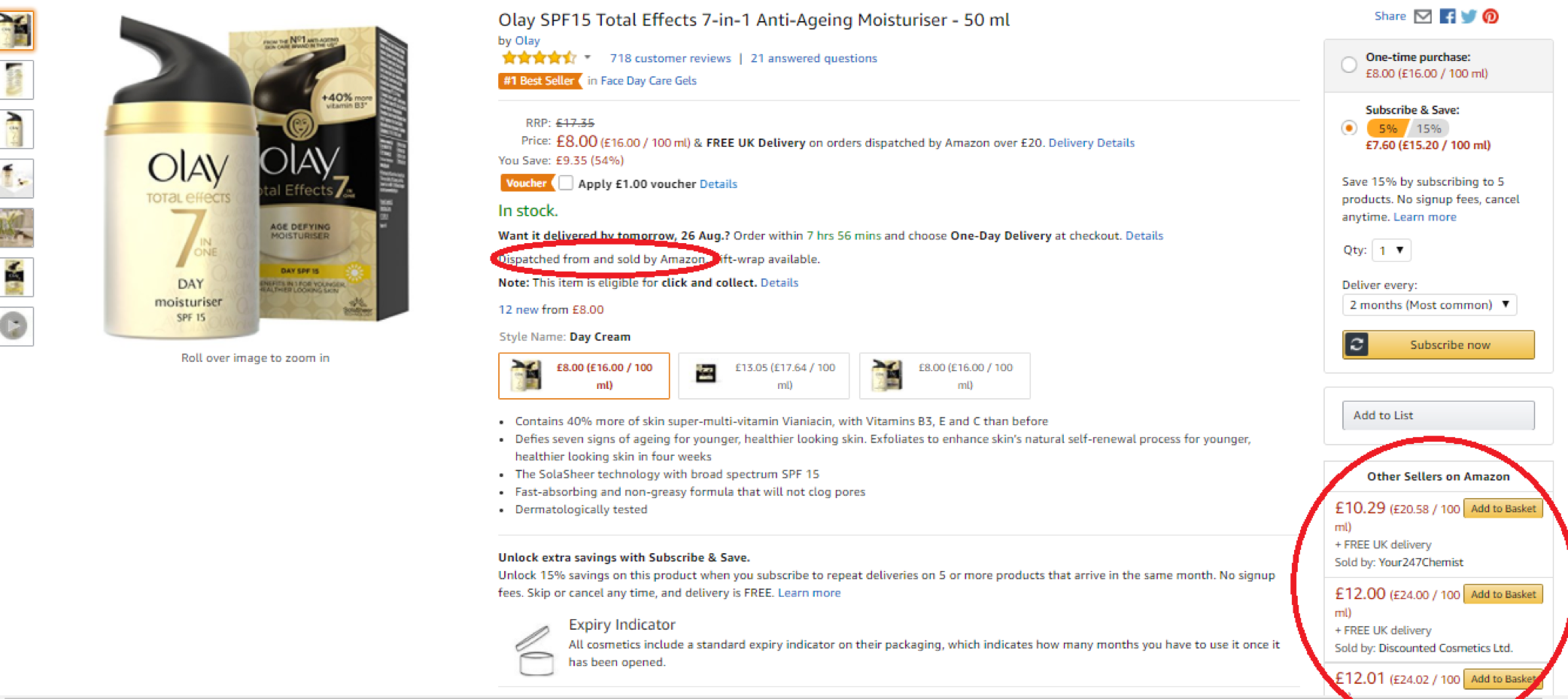 Now, you might be wondering why third party sellers would want to compete directly with Amazon, especially when they are selling their products for a higher price?
However, when you realize that Amazon uses third party sellers to fulfil orders when they have run out of their own stock, it makes perfect sense.
It allows Amazon to always fulfil shopper's needs, and gives them the ability to stock a diverse range of products.
How do I set up my FBA seller account?
If you think that the FBA model is right for you, then it's pretty straightforward to get started.
All you need to do is create an Amazon seller account. Scroll down to the very bottom of their website to where it says 'make money with us' and click 'sell on Amazon'.
At this point, you need to choose whether you want to operate as an individual or a professional. With the first option, you won't be charged a monthly subscription fee.
With the second, you'll have to pay $39.99 a month, plus selling fees (although the first month is free).
If you have big plans for your business, it's definitely worth choosing the professional option because you'll be able to benefit from additional resources such as automated tools and reports, which will help you keep track of how things are going.
Make sure you get clued up on the legal aspects of selling on Amazon, and that you've got the right paperwork in order to operate as a business.
Does Amazon have any other resources I can use?
Many entrepreneurs choose to sell on Amazon because it lets them reach a wider range of international markets.
For example, when you choose to set up as a seller on Amazon.com, you can also choose to sell your products on Amazon's marketplaces in neighboring countries such as Canada and Mexico, which means your earning potential is much greater.
Another key reason why Amazon is so popular with consumers is that they can benefit from its Prime delivery service and free shipping – and by selling your products with FBA, you'll also be able to offer this too!
Not only does this mean that your customers can benefit from Amazon's customer service and returns process, but you'll save yourself time and money by not managing it yourself.
Amazon is also a great way to cut your teeth in ecommerce, finding out more about sales figures, seasonality, product listings, and consumer trends.
Use their massive database and resources to learn more about how you can ace it as an Amazon seller and ecommerce merchant.
FBA could be a stepping stone to other channels and ways of making money.
What other options are there for running an ecommerce empire?
While Amazon's FBA might seem like the holy grail of dropshipping and order fulfilment, it might surprise you to learn that there are plenty of other options out there for entrepreneurs who want to build an ecommerce empire — many of them compatible with FBA.
eBay is another household brand with a large range of product categories, and if you're selling arts or crafts, then Etsy could be just what you're looking for.
Their seller program is easy and straightforward, and they have a growing customer base in a lot of countries.
Alternatively, why not set up an online store yourself?
This way, you'll be free from direct competition and you can start to build up your own brand equity.
This is a good way to supplement FBA income, and will allow you to diversify the products you sell.
Hopefully, this article has inspired you to start your own multi-channel ecommerce empire. We'd love to hear how you get on! Keep us updated in the comments.
Read more: 6 Online Business Ideas Taking The World By Storm.