Learn how to Email a Recruiter
On a regular basis, I get an email or a LinkedIn message from a job seeker, saying something along the lines of:
"I'm looking for [this type of role]. Do you have any jobs for me?" and a resume is attached.
This would be perfectly fine if the person contacting me knew what I do and what company/companies I am recruiting for and if their experience was relevant. However, most of the time this isn't the case. I get emails from people asking about jobs in supply chain or investment banking – none of which are areas I've ever recruited for!
Often, the job seeker is a very experienced professional who should really know better at this stage of their career. This is a wrong way to network with a recruiter.
Why?
Firstly, it's too generic – often my name isn't even mentioned and it is quite clear this is a template which is often sent to 30 other recruiters on bcc! The best way for your email to get deleted.
Secondly, it is only about what YOU want.
I do receive such emails every few days, but this approach doesn't make me want to help this person.
So how should you follow up instead?
It is crucial that you personalize your message. Remind me how we've met or how we've connected. I have close to 16,000 connections on LinkedIn – I won't always remember the fact we might have spoken 7 years ago.
Make it easy for me to help you. Tell me what specifically you're looking for but make sure you do your research first. I get people contacting me about jobs in countries I've never recruited for – which they'd know about if they looked at my LinkedIn profile.
You might want to send me a brief summary of your expertise and key achievements and be very specific what kind of an opportunity you're looking for.
Finally, offer to help as well.
You can offer to make a referral for one of my recruitment projects or to connect me with someone. If you're not sure how to help, you can always make a general "please let me know if I can help in any way" offer.
When you send me an email which suggests you've read my profile or have done the research on the company I am recruiting for, I will want to help you. It might not be possible immediately, but I'll be so much more likely to consider you when I have a suitable role open or I'll refer you to someone else.
Following up regularly is important, too. I don't mean chasing the recruiter weekly – but staying at the front of their mind will ensure that the recruiter is more likely to think of you when a suitable role does become available.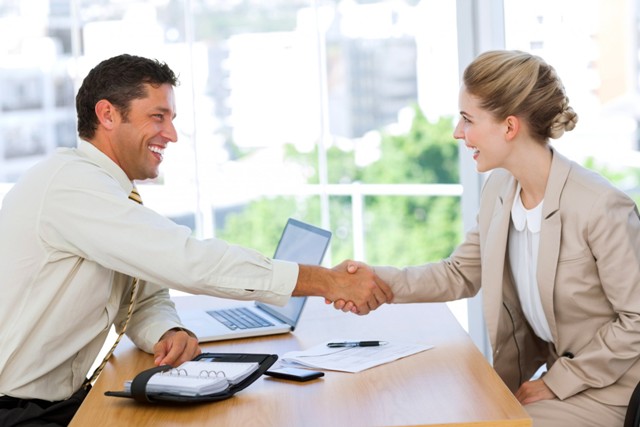 What else can you do to build effective relationships with recruiters?
A lot of candidates and clients I speak with, complain that they spoke to a lot of recruiters but they haven't got a job through them.
Working with a recruiter never guarantees that you'll find a job that way, but the problem here is that a lot of people have unrealistic expectations for the relationship with recruiters.
The recruitment consultants are working for their clients who are employers and not for you. Therefore, their motivation is to provide the employers with candidates which are a great fit for a specific vacancy.
Recruitment agencies or headhunters get hired by companies. Although some agencies work on retained basis (meaning the company will typically have to pay around 30% of the fee at the start of the search), typically these are executive search firms working primarily on senior-level roles.
Most organisations will hire agencies on a contingency basis. This means that the agency will get paid (typically 15-20% of the candidate's annual base salary) only if they find a suitable candidate for the job.
It happens quite a lot that the recruiter will work on a position for weeks and they will end up with nothing.
Since recruiters need to find the perfect candidate for their client, they simply aren't in a position to target their search to jobs specifically for you.
You're the only one who can make your job search a priority.
Recruiters can help facilitate this process by introducing you to clients and preparing you for the meetings. They can be very useful in your job search, but you need to understand what to expect.
I would recommend to contact a number of recruiters who specialize in your area of expertise and keep in contact with them. Don't just rely on job boards – they are really the least effective way of looking for a job.
Here are my top tips for working with recruiters:
1. Treat them like any other networking contact
I suppose you wouldn't ever start calling other professionals you've never met and expect them to find you a job without getting to know you? I'd therefore suggest that before asking for recruiter's help, try to build a relationship with a few recruiters first.
You can easily find and contact recruiters via social networks such as LinkedIn.
2. Don't wait till you're no longer working to connect with them
Recruiters prefer to work with candidates who are currently employed or who have finished working very recently. It might seem unfair to you, but if employers are to pay a high fee for the recruiter, they'd typically expect a candidate who's been headhunted from their current job.
3. Offer to help them
If a recruiter contacts you about an opportunity that is not of interest to you or it is simply not the right time to move, offer to assist them with referrals if you can. They are much more likely to remember you.
4. Stay in contact, but don't pester them
Many recruiters, including myself, prefer emails over phone calls so that we can manage our day better.
It is great to stay in contact, but if you call obsessively every 2 days to ask if there is an opportunity for you makes you feel desperate – not enthusiastic.
5. Keep your resume current
You never know when you might hear about a fantastic job, so it's so always good to have your resume updated.
6. Be honest
Don't ever lie about what you do in your current job or what you're unemployed. Eventually the truth comes out through reference checks or employment background checks, which most employers request these days, and being dishonest means you've ruined that relationship with your recruiter.
7. Guard your online reputation
Many headhunters will Google your name, so put yourself in the mind of an employer and ensure there is nothing online that could jeopardize your career.
There are great and bad recruiters, just like in any other profession. It's important to create relationships with the ones who have experience of recruiting in your niche.
Learning how to work with recruiters could be a great way to get access to jobs that are not posted, but it's important to diversify your job-hunting strategies.